Description
ZENMUSE XT S THERMAL IMAGING CAMERA: A PROFESSIONAL SOLUTION FOR THERMAL IMAGING
---
DJI drones have featured a wide variety of drone technology, from the easy functionality of the Mavic Mini to the multispectral imaging system of the P4 Multispectral. Many DJI drones can be combined with different payloads to offer unique capabilities such as enhanced optical zoom or thermal imaging. With the new Zenmuse XT S thermal camera, you can quickly turn your DJI Matrice drone into a powerful thermal drone fit for a wide variety of applications.
The Zenmuse XT S is the newest thermal imaging camera developed by DJI that is compatible with both the DJI Matrice 200 Series and the DJI Matrice 300 Series. It features a high resolution of 640×512 and a high refresh rate of 25Hz, giving you professional thermal imaging at an affordable cost. The radiometric thermal imaging core also features a pixel pitch of 17 μm, providing you with even greater accuracy and thermal sensitivity.
The XT S is a good low-cost option for thermal imaging using the DJI Matrice Series because it is less expensive than the Zenmuse XT2 or the Zenmuse H20T. While both of those cameras offer additional optical imaging capabilities that increase the price, the XT S only has the thermal sensor. If you're an inspector, firefighter, or police officer looking for an affordable thermal camera that gets the job done right, you can't do any better than the Zenmuse XT S.
---
---
Thermal Imaging Sensor
The Zenmuse XT S thermal camera is notable for its radiometric thermal imaging sensor. This sensor has a high sensitivity of ≤40 mK, which allows for incredibly accurate temperature measurement. The XT S can also withstand many different environments, as it features IP44 level Ingress Protection dust and water resistance that protects the thermal camera from inclement weather.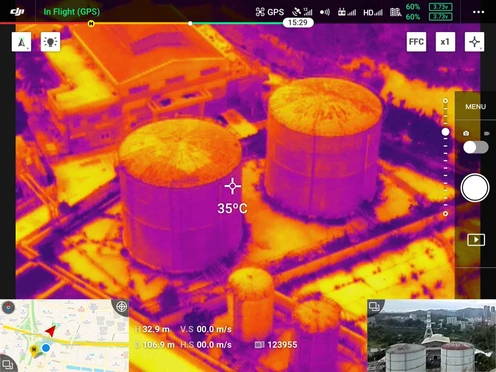 Spot Meter
When using a thermal camera for inspections, you often need to pinpoint different areas in your field of view to get accurate temperature measurements for certain pieces of equipment.
The Zenmuse XT S comes with a spot meter that allows you to tap a point on the screen to get a real-time reading of the surface temperature.
This makes it easy for inspectors to closely monitor their site or individual pieces of equipment to ensure all temperature readings are within range.
Digital Zoom
Public safety and firefighting missions often require you to work from a distance in order to maintain your own safety as well as the security of the mission. DJI Drones offer a significant range to help aid in your mission, and the XT S thermal camera offers an additional digital zoom to help you capture images from even further away. With the 2x and 4x digital zoom, this thermal camera can help you maintain situational overview without putting yourself in harm's way.
Area Measurement
The XT S also comes with area measurement, which gives you a comprehensive view of the temperature readings within the entire area.
By simply selecting an area on the screen, you can instantly view the lowest, highest, and average temperatures within that area.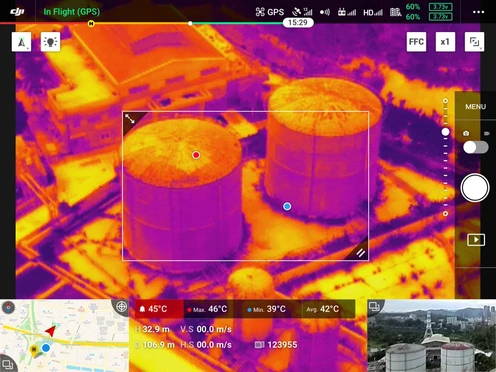 Temp Alarm
When monitoring potentially dangerous equipment, you need to be able to react quickly if temperatures spike out of control. The XT S thermal camera comes with a temperature alarm that will instantly notify you via the DJI Pilot app in the event that any object temperatures exceed your preset alert values. This allows you to quickly fix any issues with the equipment before they damage the machine or injure anyone.
Isotherms
Different missions have different needs, and the Zenmuse XT S offers the flexibility you need to instantly identify what's important. Using the Isotherms feature, you can choose from different modes to visualize a specific band of temperatures. Whether you use the Search People mode during a search and rescue mission or the Search Fire mode in a firefighting application, you'll be able to identify the target subject quickly and accurately. There's even a Custom mode you can use to make your own settings for your unique mission.
Color Palettes
The color palettes of the XT S allow you to quickly interpret data, which is vital to having a speedy and successful mission. By adjusting the colors applied to the thermal data, you can set up the camera based on the needs of specific scenarios.
R-JPEG Images
The XT S thermal camera captures images in both JPEG and R-JPEG format. When capturing R-JPEG images, you'll receive embedded temperature information that provides you with greater clarity about the data. You can also import these images into the DJI Thermal Analysis Tool to measure temperature as well as adjust parameters such as Emissivity or Reflected Temp.
Gain Modes
The different gain modes of the Zenmuse XT S give you the ability to change the temperature range captured by the thermal imaging sensor. If you're looking to hone in on a smaller temperature range, the High Gain Mode will give you the focus you need while also being more sensitive to temperature differences. If you're looking to cover a wider temperature range and you're less concerned about minor temperature differences, however, the Low Gain Mode can give you the wider scope you need.
---

---
---
DJI Thermal Analysis Tool
All of the data in the world won't help unless you have the tools to analyze it. The Zenmuse XT S comes with a dynamic DJI Thermal Analysis Tool that you can use to analyze and process thermal images. This tool will identify the temperature information of critical areas of the target, allowing you to analyze objects across a variety of industrial applications. Thanks to the speed and power of this software, you can detect and pinpoint temperature abnormalities in equipment during routine inspections, addressing major incidents quickly or even preventing them in the first place.
---
---
Inspections
A thermal drone is a valuable asset to any inspector, as the combination of drone technology and thermal imaging sensors allow you to quickly gather information from a safe distance. A DJI Matrice drone equipped with the Zenmuse XT S thermal camera can easily streamline anything from solar panel inspections to powerline inspections. The Zenmuse XT S is particularly good at spotting issues with solar panels such as solar cell degradation or failure, with accurate geolocation helping you find the exact cell that needs fixing.
---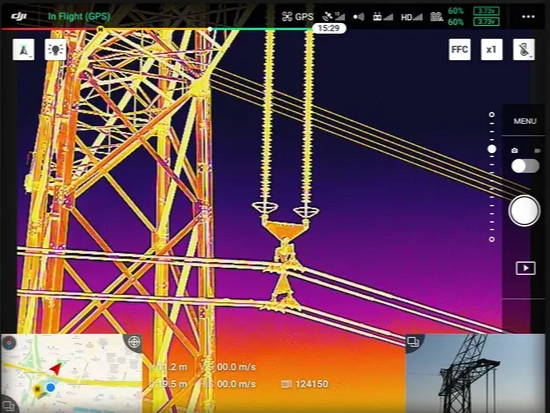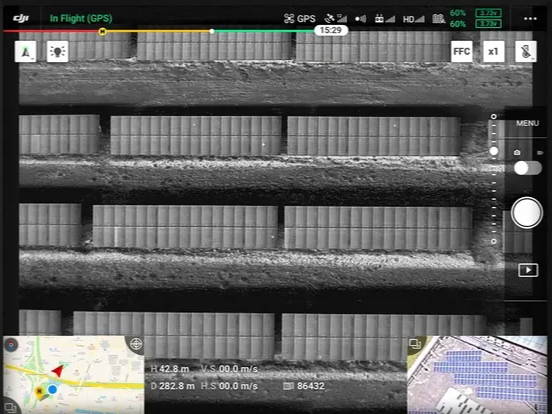 ---
Features such as Temperature Measurement can help pinpoint problem areas along the powerline, enabling timely responses and preventing damaged equipment or lost energy. The ability of the XT S to detect heat leakages and overheating components is particularly useful when looking for heat leakages during building inspections.
Firefighting and Police Dept./Public Safety
Public safety missions often require a certain level of covert action in order to successfully perform surveillance or reconnaissance. Thermal cameras such as the XT S can detect and display objects and people during both the day and at night. This is because the thermal imaging sensor looks at heat rather than relying on vision or night vision capabilities. Police officers performing surveillance or reconnaissance can easily use the XT S to monitor sites for criminals without having to worry about the limitations of night vision.
---

---
Search And Rescue
The Zenmuse XT S thermal camera isn't just useful for surveillance or reconnaissance—its night vision capabilities can also prove incredibly useful during search and rescue missions. When looking for lost persons through wild terrain with limited visibility, the XT S can quickly detect the person's body heat through foliage. This can make the difference between life and death by saving time during the search.
---

---
ZENMUSE XT S: HIGH THERMAL SENSITIVITY, HIGH RESOLUTION
Both the DJI Matrice 200 Series and the DJI Matrice 300 Series will pair seamlessly with the XT S. Like with all DJI drones and cameras, the DJI Pilot app can help you better navigate the Zenmuse XT S thermal camera. Developments made specifically for the XT S can help you experience an automated flight and aerial imaging operation for faster, safer missions.
Whether you're a firefighter assessing the safety of a burning building or an inspector monitoring a powerline, the thermal sensors of the XT S can view data unseen by the naked eye. Being able to monitor the subtle temperature differences can help you detect defects or damage to your equipment or even spot a missing person in a search and rescue operation. There's no end to the ways that the Zenmuse XT S can improve the efficiency of your mission, no matter what your needs are.